If you do not tell your own story, you surrender your reputation into the hands of others. For years, U.S. – Mexico border controversies resulted in bad news stories about Nogales, Arizona.
To take charge of their own story in a coherent brand and reveal the story of a greater Nogales, Nogales Community Development approached WestWordVision to develop a suite of four websites: one for each of three economic development organizations serving Arizona's Santa Cruz County, and a Nogales USA capstone site that would give structure to the overall narrative. Each of the organizations—Nogales Community Development, Nogales-Santa Cruz Port Authority and Nogales Economic Development Foundation—promotes economic and community vitality in the region in complementary ways.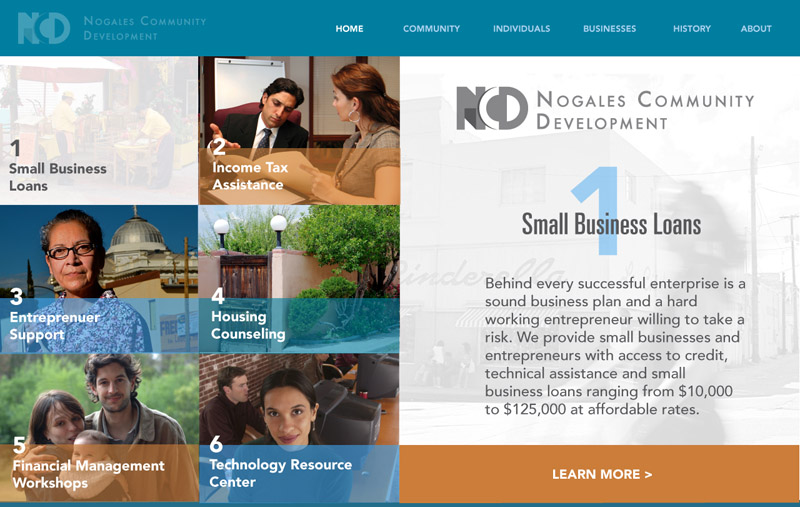 The goal was to offer a more complete, accurate portrait of Nogales, an energetic community where people from all parts of the globe live, work and play. We set out to change people's perceptions and conversation about Nogales by promoting facts, new perspectives, regional context and personal stories.
A coherent brand reveals the story of "A Greater Nogales"
Our research revealed a big opportunity to create a new community context that underscores the advantages of business and life on the international border. We planned the four sites to amplify the efforts of the three sponsoring organizations by providing clarity and consistency of communications to all audiences. 
WestWordVision developed a new identifier, "A Greater Nogales," that connects the community and the three organizations online. The fours sites have a unified community identity with a shared vocabulary, a single style of navigation, and visual consistency throughout. Yet each site remains true to its own organizational brand.
Nils Urman, Interim Executive Director for Nogales Community Development explains, "To develop the brand strategy, WestWordVision analyzed our community's collective identity, articulating our unique culture, personality and larger function within the region. They also recognized the unusual structure of our economic development efforts and catalyzed this into "A Greater Nogales" where the missions of individual organizations coalesce and amplify each other to support the whole community. This global approach is truly paying off for us."
 
A portal site, Nogales USA, will organize the community around equities that include infrastructure, industry, workforce and international culture. As visitors move through the websites, the story of the community is told through the various programs, tools, and services that they find there.
You can see the first of the four sites for Nogales Community Development. The other sites will launch in the next few months.