Marketing & Public Relations
B2B Network Marketing & PR 
Health Product Declaration Collaborative
Among those who design, construct, and occupy buildings, there is increasing interest in what constitutes a "healthy" building product. One of the biggest problem has been that accurate, reliable and consistent information about the contents of building products and their links to health is hard to find. The Health Product Declaration Collaborative's reporting system offers a reliable, widespread, easy to use system for reporting the ingredients in building products along with information about their potential effects on human and environmental
WestWordVision integrated the organization's key messaging into a new trade show exhibit, print brochures and PowerPoint presentations, bringing  human health to the forefront of decision making. 
---
Research Park New Tenant Messaging 
University of Arizona Tech Parks
WestWordVision constructed a key message platform for U of A Tech Parks Arizona, one of the country's leading research parks, to help them attract new business tenants. 
#1: Tech Parks Arizona stimulates dynamic commercial cluster growth in aerospace and defense, border technology, renewable energy, bio technology and mining and mining analysis
#2: Tech Parks Arizona builds economic momentum that accelerates Tucson's tipping point and leverages its position in the Sun Corridor Mega-region.  
#3: Tech Parks Arizona educates and prepares Greater Tucson's growing sophisticated workforce for the 21st century global economy
#4: Tech Parks Arizona contributes to the economic wellbeing of the community, regionally and globally. 
#5: Tech Parks Arizona connects people to its powerful built-in network of economic development organizations.
#6: Tech Parks Arizona cultivates innovation that leads to greater regional prosperity through its mixed-use environments.
#7: Tech Parks Arizona offers specialized land-use and facilities at its two research parks in a desirable metro market.
#8: Tech Parks Arizona has a strategic location within an active, sophisticated bi-national supply chain and major trade hub.  
#9: Tech Parks Arizona brings prestigious association with Fortune 500 companies.  
#10: Tech Parks Arizona serves as an international connection for companies considering locating in the US market. 
#11: Tech Parks Arizona upholds excellence in research park best practices that is recognized by peers and leaders in the field.
#12: Tech Parks Arizona sparks new technology companies and the commercialization of their products and services.
#13: Tech Parks Arizona provides access to exceptional, world-renowned science and technology leaders and capabilities at UA — Deans, Department heads, BIO5 Institute and other researchers.
---
Regional Supply Chain Business Attraction Messaging  
Nogales Economic Development Foundation
WestWordVision constructed a key message platform for Nogales Economic Development Foundation to help them attract small to mid-size companies to the bi-national region. We identified Nogales, Arizona's market position as a highly specialized international logistics and supply chain hub that offers extremely efficient, secure and low-cost options for manufactured goods and produce.
Our key message top-level pathway was:
#1: Nogales is an international trade hub 
Nogales is part of Ambos Nogales, an international supply chain and logistics hub that is situated on a well-established north-south trade route on the U.S.-Mexico border.
#2: Nogales is is located in the heart of the West's commerce
Nogales, Arizona is situated near key U.S.-Mexico commercial markets in all directions.
#3: Nogales is handles significant manufacturing and produce trade volume
Ambos Nogales handles $26 billion a year of international trade in fresh produce and manufactured goods moving in both directions.
#4: Nogales uses  superior physical infrastructure and trade expertise
Nogales, Arizona's infrastructure and trade expertise are the conduit for securely and efficiently moving goods across the international border.
#5: Nogales has an FTZ 60 incentive program
Nogales Arizona's FTZ 60 offers businesses a powerful mechanism for reduction of costs and increased flexibility at the border.
#6: Nogales offers faster, lower-cost, hassle-free logistics and commercial opportunities
Companies located in Ambos Nogales experience increased global competitiveness because of lower costs and hassle-free logistics.
#7: Nogales is a friendly, cosmopolitan community with a great climate 
Nogales, Arizona offers companies and their employees the benefits of an international lifestyle in a moderate climate.
#8: Nogales is growing. Become part of it.
Call to Action: Ambos Nogales is growing. Explore commercial opportunities in this entrepreneurial, international port city.
---
B2B Network New Member Messaging 
Green Chemistry & Commerce Council
WestWordVision developed a strategic key message platform for positioning Green Chemistry & Commerce Council to attract new members and increase participation among current members. We identified that the organization was uniquely qualified to advance the application of green chemistry and design for environment across supply chains.
Our key message top-level pathway was: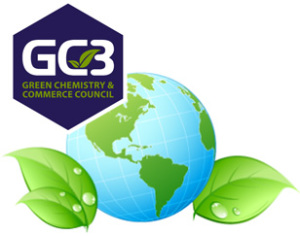 GC3 Value Proposition
The Green Chemistry & Commerce Council (GC3) is the only organization that engages the entire supply chain—chemical companies, product manufacturers, brands and retailers—to create the next-generation supply of green chemistry alternatives for a healthier business ecosystem, a healthier society and a healthier world.
#1: GC3 is a voice for society's health concerns about chemistry
GC3 answers consumer demand for healthier products
#2: GC3 is a full supply chain of contributors harmonizing their efforts
GC3 enlists business to develop the green chemistry supply
#3: GC3 is spurring a safer product solution set that's good for the long term
GC3 brings green chemistry to the corporate sustainability portfolio
#4: GC3 has a process for converting research "unknowns" into "knowns"
GC3 turns intention into green chemistry innovation for companies
#5: GC3 is the place for business to access the highest level of resources
GC3 bridges the disconnected and complex chemical ecosystem
#6: GC3 is an uncommon collaborative that solves common, critical challenges  
GC3 creates incentives for new green solutions in the supply chain
#7: GC3 is a forward thinking forum that creates sustainable chemistry for a healthier business ecosystem
GC3 finds system-wide channels of change to make all chemistry green
To learn more about how WestWordVision's marketing and PR services can help you organization, call Paula Schaper at 520-604-6273.