Brand Identity
Research Park Branding
University of Arizona's Tech Parks Arizona: "Interactive Ground"
WestWordVision's brand for Tech Parks Arizona, 'Interactive Ground,' was built from a deep understanding of the niche role that the research parks play in the region. The brand communicates that Tech Parks Arizona cultivates complex and often spontaneous connections among university, industry and community, ensuring that partners accomplish together more than any individual partner could accomplish alone. By offering its know-how, facilities and resources, Tech Parks Arizona provides the right conditions for technology to thrive. 

Our brand for UA Tech Parks Arizona was constructed to communicate that the benefit of these synergistic regional relationships is development of more technology assets that the region delivers worldwide.
WestWordVision communicated the brand through a new website, PowerPoint presentations and newsletters.
---
Manufacturing Network Branding 
New Jersey Institute of Technology's Manufacture NJ Initiative: "Ready For A Revolution"
Our brand for New Jersey's Advanced Manufacturing talent network was based on the simple fact that the face of manufacturing is rapidly changing. Technology and the global economy, as well as shifting market forces, are driving these changes.
In order to understand the talent gap, we interviewed a broad stakeholder base of manufacturing leaders to gain a clear picture of the situation.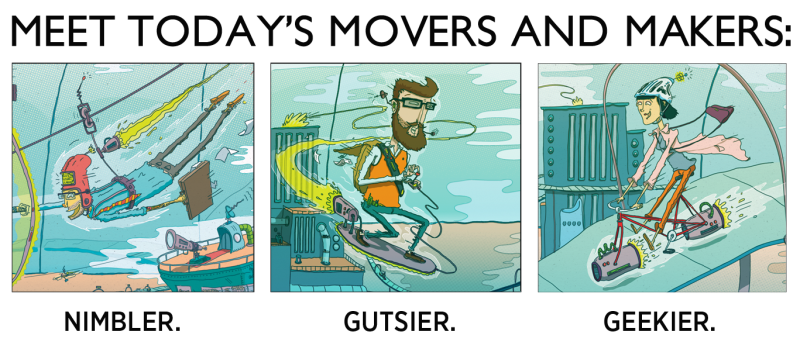 Our brand was honest and straightforward, coming from the voice of private sector leaders who helped construct the self-reference platform: "New Jersey is in the midst of a revolution in manufacturing, but we can't start the revolution without young people. We're looking for nimbler, gutsier, geekier collaborators to help us rewire our industries, our companies, our products and our brands. The software, hardware and electronics used in manufacturing are changing and so are the skills required for young people thinking about what career path to pursue. We offer well-paying career opportunities in a high-tech, creative, global economy. Come help us chart the future of manufacturing."
---
Native American Nation Branding 
Tohono O'odham Youth Suicide Prevention Program: "Dreamscape"
The "Dreamscape" brand connects with our audience through the powerful landscape of dreams. Dreams help us process experiences and put our feelings in context. If we pay attention to and build upon the encoded messages of our dreams, we can change the Dreamscape.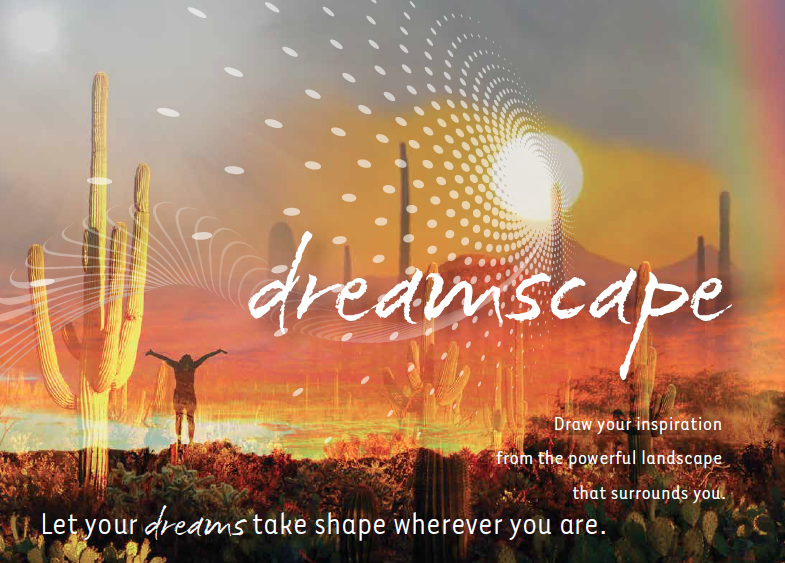 Through the program our audience is encouraged to build their own Dreamscape. Slowly but surely, in this safe place new ideas and possibilities emerge. Our audience becomes actively engaged in shaping their own life and finding their own path through the powerful inner world of the dream.
Dreams are where we wake up to things we can't see in conscious life. Our concept accesses the seed of thought through the subconscious. In our dreams we can see answers, insights, designs and patterns that we can use in our waking lives. With Dreamscape, our audience first learns to see the dream, and then finds the courage to participate in the dream by imagining more deeply. Finally, the dream finds it way to the outward manifestation of life.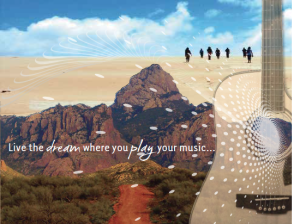 Our brand creative reflects the relationship between the inward dream and outward manifestations of the dream. We help our audience imagine confidence, self-expression, community, and a new role for themselves. They may see their purpose.
It starts in small ways with dreams that come out of the landscape. The rock features of a mountain inspire the necklace design you create. The color of the crimson sunset becomes the accent of your painting. The desert surface provides a ramp for you to fly with the wind on your skateboard. 
---
Community Development Branding
Town of Marana, Heritage Project: "Where Old Tracks Break New Trails"
Stakeholders in Marana knew that the community's heritage was a valuable resource and so included it as one of five strategic focus areas. The community understood that its future would prove to be richer and better thanks to Marana's knack for turning unexpected challenges into opportunities. 
As project lead for Marana Heritage Project, WestWordVision constructed an authentic brand based on the area's historic prime position along an ancient trade corridor.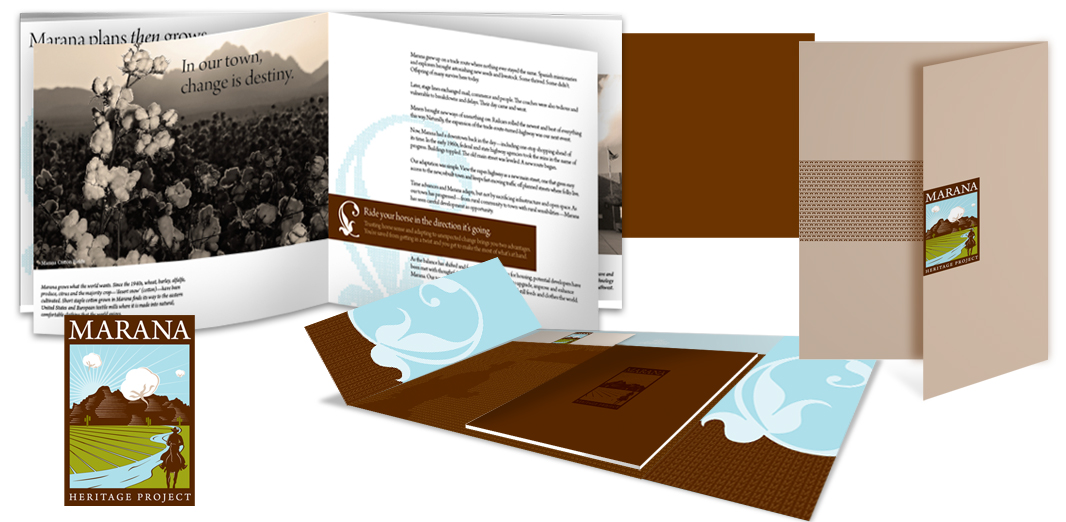 Using historical context and broad community stakeholder wisdom, we identified and mapped six defining personality traits that formed the basis of our community identity.
The upshot: Marana is revealing to the world a showcase for controlled, visionary growth. It Authentic Brand, created from its heritage and inheritance, is setting it apart from neighboring towns and cities. Most of all, our Marana brand points the town toward its destiny as a destination, a wide open place where American Western heritage and rural ways live within a short distance of cities but a world apart from them. 
---
Regional Development Branding 
Arizona-Mexico Commission: "Visionary Leadership"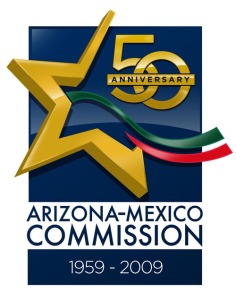 For Arizona-Mexico Commission's (AMC) 50th anniversary, our brand leveraged AMC's authoritative position as the world's longest running cross-border organization to become the leader for international cooperation through the following actions:
Applying its knowledge into the international conversation on border issues
Developing a higher profile with decision makers in Washington DC and Mexico City
Enlisting members and board members in a PR campaign, using their respective knowledge and reputation as subject matter experts
Developing an archive system as an on-demand resource for the media and other organizations and agencies
Our brand research gained stakeholder wisdom through interviews with the board of directors and former presidents of the organization. We also conducted independent research to understand the origins and impact of this cross-border, public-private sector organization.
---
Regional Initiative Branding  
The Southwest Center: "Hungry For Change"
Our brand for this magazine-style publication underscores the state of our U.S.-Mexico shared bi-national region's food and water system. A series of short, first person essays serve as a snapshot on specific food issues, which give readers greater knowledge about the source of their food and about the U.S./ Mexico food chain ecosystem.
Focusing on both sides of the border, the writers put into context the complex concept of a bi-national food system shedding light on security, interdependence, disparities and climate change as well on the opportunities to engage in the reconstruction of a more resilient borderlands food system.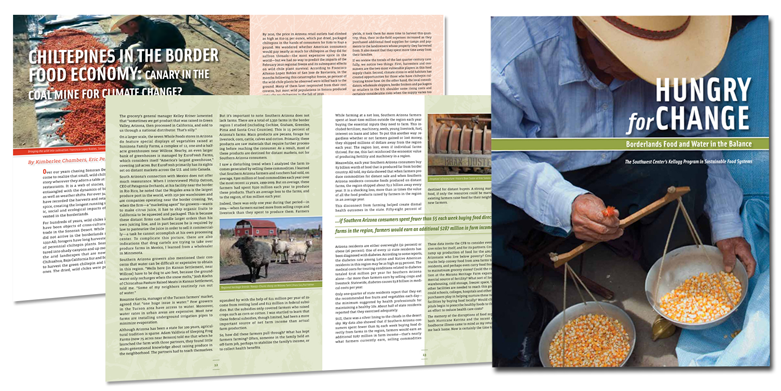 To advance this important agenda, we worked with Gary Nabhan at the University of Arizona's Southwest Center to place the issue in context. Our "Hungry For Change" brand provided snapshots from the borderlands food system, a food system that is local to us, but has global implications if there is an interruption in the food system's functionality.