Brand Creative
Leverage your most relevant attributes, and your credibility rises.
We replace the old marketing maxim "Know your audience" with a more fundamental bit of wisdom: "First, know thyself." When you identify and translate more of your internal culture into genuine expressions, your audience will recognize the difference and your impact will grow.
Credibility arises from what you uniquely possesses that is of value to your audiences. Genis Factor® moves your collective into the Credibility Zone by revealing the value of the attributes that have made your organization utterly unique and successful—personality traits, vocational roles, product relevance, skills mastery, leadership positions and knowledge niches.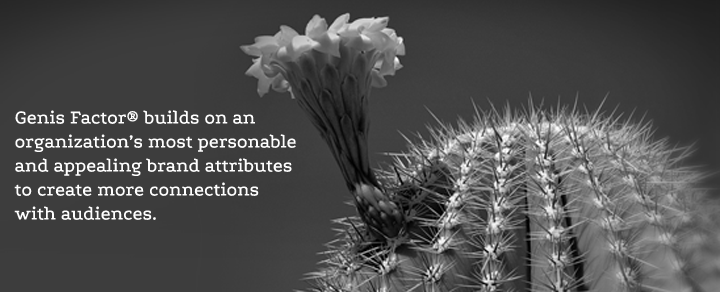 With these traits front and center, we help you develop a brand or business strategy that reflects your more powerful self.
When you leverage your most relevant character attributes, you'll gain credibility and power. Your audiences will have more reasons to conduct business with you. You'll open new avenues to communication, prosperity and success every day.